Our Roots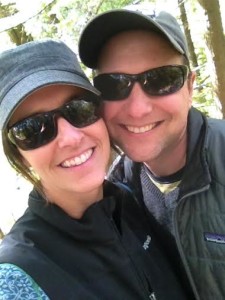 When owners Kevin and Sherri Kukuchka first met as horticulture students in 1994, the site which is now Creekside Gardens was simply a cornfield…but Kevin had a dream to create a destination. A love and appreciation of plants and nature has always been at the heart of Creekside.
In the beginning, nursery stock was lined out in the field and a retail greenhouse was erected, along with a small shed that housed our cash register, stored tools for landscape installation, and a desk.
For over twenty years, we have constantly been expanding our offerings. Recent additions including our Butterfly House (2010), our Cabin gift shop (2011), and being host for the Tunkhannock Farmers Market in the summer (2017)  have given us the opportunity of being a stronger year round destination offering numerous events and workshops…much more than a seasonal plant place.
We have come to the conclusion that just like any garden, Creekside is ever changing and will never be finished…a continuous evolution.
Our Family
In our eyes, the Creekside Family includes parents, siblings, grandparents, aunts, uncles, nieces & nephews who have all contributed to our journey…also included in that family is our staff. We strive to surround ourselves with friendly, passionate, and creative people who truly are part of a team. Our extended family is what makes Creekside a special place. Thanks to all who have been and continue to be a piece of the puzzle.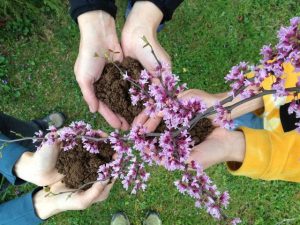 Our Values
We hope to provide an experience to nourish the need of adults and children alike to stay in touch with nature. This process of encouraging and inspiring people to be creative and/or simply acquire a deeper appreciation of the natural world is imperative in our time. In this era of great technology we see an even bigger importance to foster an appreciation of Mother Nature to children – teaching the significance of creating and preserving habitats, growing your own food, and stopping to appreciate a sunset….these things are not experienced on a screen.
We can all make a difference to future generations – share your own passion for the natural world – and have fun doing it!
Our Home

Tunkhannock is nestled in the Endless Mountains of Northeastern PA – proudly, it is our home.
Our small town sits on the Northern Branch of the Susquehanna River. It is a great place to live or visit, especially if you enjoy the outdoors. Bald Eagles are commonly viewed along the river, and locals talk frequently of sightings and nests they have spotted. Sunrises and Sunsets viewed from the River Bridge are spectacular among a mountainous backdrop.
WE LOVE YOU TUNKHANNOCK!