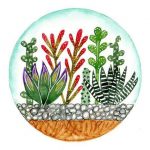 terrarium workshop
Create your own complete terrarium! This is an open workshop, so no reservation is necessary. Visit any time between 11am-4pm.
Choose from our selection of tiny succulents and foliage plants. Shop from our selection of glass vessels when you arrive. Also our natural pods and crystals along with miniature mushrooms will help personalize your creation.
Workshop Fee is $9 per creation.
(Fee includes ONLY starter materials: soil, moss, carbon and basic gravel. Glass, plants and other fun add ons are sold separately)